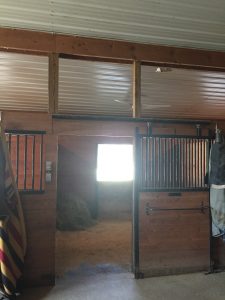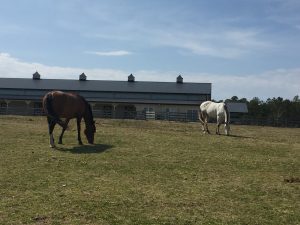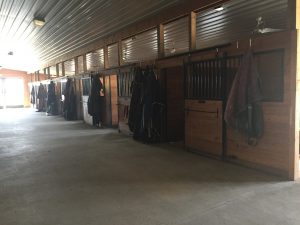 At BB Equestrian, we work hard to ensure the well-being of all of our horses. We offer the following boarding options:
Full Board

–

$575/monthly 
Selected Grain 2x a day
Stall Cleaning 1x daily
Hay & water
Holding for Vet & Farrier
Blanketing (Up to 3 blankets)
12- hour group turnout
Full board with Private Turnout –

$675/ monthly
Includes everything with Full Board + private turnout
Lay Up Full board – $715/monthly –  For horses needing stall rest for one month or longer
Full board minus turnout
Hooves picked 1x daily + thrush buster
Stall cleaning 2x daily
Wrapping and Bandaging if necessary
Short Term or Layover board – $35/day

Overnight board with field or stall options available
Hay and Water
Stall cleaning 1x daily
Parking for RV or Trailer
Horse Feed
BB Equestrian offers the following feed choices (which are included in your board):
Triple crown Complete feed for the active working horse
Triple Crown Senior for the older horse
Triple Crown Lite for the easy keeper/ponies
BB Equestrian will be happy to feed your horse the feed of your choice as provided by the owner.  We offer premium quality, nutrient dense, horse-tested grass hay. We prefer to keep a natural balance in horses' diets and do not offer worming unless designated by a veterinarian post-fecal test.
Supplements
BB Equestrian is happy to offer the Smartpak Barn Buddy system to ensure horses are receiving the appropriate measures of supplements designated specifically to them. BB Equestrian asks that, when possible, you order your supplements through Smartpak or pre-measure and bag your supplements.
IF your horse needs limited stall rest, please see Brenna to customize a schedule best suited for your horse's needs.
A La Carte menu:
Grooming (thorough brushing + hoof picking)  – $15
Grooming (Off Farm) – $35
Trailering  – $2.20/loaded mile
Exercise ride (45 minutes) -$25
Wrapping/bandaging (with supplies provided by owner) -$10 daily
(Supplies provided by barn) – $15 daily
Ring fee for trailer in's -$10/person